The Autumn Equinox is Coming
Fall into Autumn with 5 amazing, harvest-inspired flavors. Unleash Your Adventurous Spirit with our Crispy Apple, Spicy Chai, Savory Caramel, and Delicate Rose blends!
Fall this way
Four New Flavors
We're in the Summer months and we've decided to release not 1 but 4 amazing new flavors perfect for chilling with a crisp glass of ice.
Shop now
Enjoy our skull series
Explore our wonderful variety of different teas with our Skull Series! When you buy more tea, you save. Each flavor comes packed with 50 servings of our handcrafted delicious tea in our custom mason jar skulls.
Shop Now
Browse the many paths to valhalla
Why Our Heroes
Our goal is to celebrate cultural diversity. At VTC we put a lot of thought into each one of our champions selected to represent our handcrafted blends. We started with the raw ingredients and attached it to a cultural warrior to become the stewards of our brand. Anxiety, depression and PTSD effect everyone, regardless of race, religion or sex and needs to be addressed as a human issue. Together we can all live a healthier lifestyle.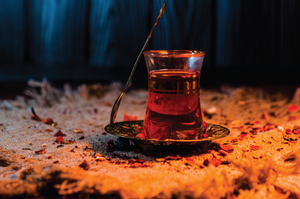 AT OUR CORE: HELPING VETERANS
The Valhalla Tea company stands by this commitment: For every bag of tea we sell, a portion of the proceeds gets donated to one of our partner organizations to help fund their programs. We promise never to lose sight of this mission and will always hold ourselves accountable.
Experience a Variety of Flavors
Reducing our Carbon Footprint
We honored our promise and now all 12 blends are packaged in 100% Post Consumer Recycled (PCR) mylar packages. PCR plastics have been shown to reduce a companies carbon footprint by a stunning 60%. PCR makes better use of petroleum sources as well as reduces waste in landfills. This year our goal is to be 100% packaged in PCR bags.
Absolutely hands down the best tea I've ever drank…!!! So much hard work and care put into every batch of tea…!!!
S.J. David

I purchased goddess of war, the protector and lord of the desert for my husband. He loves the flavors of all them. The goddess of war is his go to. Helps him calm down and relax. Love supporting small businesses that give back. Will be purchasing again 🙂
Katy Hubbard
All Father is my new favorite! You could call it All Flavor or Father of all Flavor. The taste of licorice lingers from sip to sip, not overpowering, but light and sweet. I need to go and brew another cup!
Becky Elfrink
Absolutely amazing company! Not only is their tea next level but give back to a great cause! Orders arrive shortly and they have amazing customer service!! I have my entire office hooked!!
Hannah Condon