Heroes Inspiration | Non-Caffeinated | 6 Sample Bags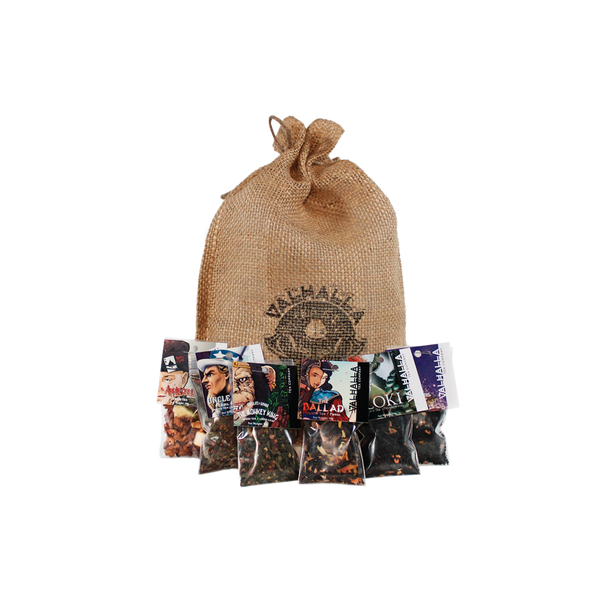 Includes 1 Sample of Each Below Flavor:
All Father - All Father is the warrior's tea for managing stress! It has a beautifully sweet aroma. Refreshingly citrusy on the front end with notes of sharp ginger and a punch of licorice on the back end.
Apple Seed - Full of apples, sweet sugar, and hearty nuts. Appleseed is the embodiment of what a fruit tea should taste like. Feast your eyes and your taste buds on the chunks and slices of real apples this tea delivers.
Earth & Sky - This incredibly artful taste is further enhanced by a symbiotic sweet and fresh flavor combination. This delicious, non-caffeinated tea blend that blends pineapple, mango, and orange is a great alternative to sugary drinks.
Goddess of Love - We mixed the perfect ratio of sweet apple pieces and nuanced beetroot for a scintillating, smooth finish and instantly fell in love with it. The flavor note is enveloped in further complexity with sweet, roasted, caramelized almonds to give it a smooth finish and Aphrodite was pleased. 
Thunder - Thunder Energy Tea is not your typical energy drink. It's designed specifically to fuel cognitive functions, improve your mood, and provide energy when you want it most. Better yet, there is ZERO CAFFEINE, so no jitters or heart pounding.
Zeus - Few can rival the dynamic duo of pomegranate and blueberry when it comes to delightful flavor combinations. These two fruits not only tantalize your taste buds with their fruity goodness but also offer a visual feast with their vibrant colors. Throw in some elderberries and mallow blossoms picked from the mountains of Epirus in Northwest Greece, and you'll begin to have yourself a blend worthy of the gods.